Buffett's Candies: Citizen Cane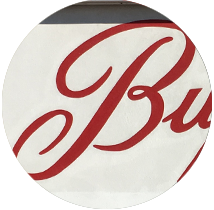 Before the days of iPads and in-car DVD players, kids riding in the back seat of the family car had to entertain themselves by looking out the window. Riding around Albuquerque in my parents' 1964 Oldsmobile Cutlass, my imagination sometimes ran wild. One day I spied a huge candy cane, 15 or 20 feet high, leaning against a building. I imagined that some Brobdingnagian toddler had been gleefully tromping down Lomas Boulevard, crushing Cadillacs and Karmann Ghias underfoot, but had become distracted by something floating in the air – like a dandelion or a helicopter – and carelessly left his gigantic candy cane by the roadside to pursue the shiny object. (I was a weird kid.)
I Want Candy
Of course, that was just the imagination of an 8-year-old boy. The real story is that the colossal confection is the landmark for Buffett's Candies, an Albuquerque institution since 1956. Buffett's is home to a wide variety of homemade candies, but is probably best known for its famous New Mexico Piñon candy treats like piñon brittle, piñon rolls and chocolate piñon horny toads.
Citizen Cane
But the store's most visible confection isn't made of candy at all, but rather is a long metal tube, shaped and striped to evoke the worst nightmares of every dentist in New Mexico. The original Buffett's cane was constructed of a special lightweight material that was used as conduit in New Mexico's uranium mines. In fact, it was a little too light. "We found out that also was a drawback since it was stolen as a senior prank in the early 1980s," recalled co-owner Patty Buffett. After being knocked down by high winds and damaged by an errant automobile, the original cane was replaced with a new version, fabricated from ventilation duct and cemented into the ground to deter cane-nappers.
Like the Eiffel Tower, the giant cane was not originally intended to be a permanent structure. "The cane was used as a Christmas decoration beginning around 1960," said Buffett. "For a few years it was taken down after Christmas and would return the following holiday." The cane now is a year-round fixture.
Sweet Script
Nestled comfortably beneath the cane is the original Buffett's logo, rendered in a calligraphic lettering style known as Spencerian Script. "This was originally hand-lettered when my father first opened for business in 1956," said Buffett. Beneath the calligraphic treatment of the family name, "Candies" is set in a traditional old-style Caslon-esque italic.
Like a Willy Wonka for penmanship, Platt Rogers Spencer was a practitioner of the graphologic arts. In the mid-19th century, Spencer developed a penmanship style that could be written quickly while maintaining readability. This was a boon to both personal
and business correspondence in the pre-typewriter era. Spencer went so far as to establish a school of penmanship to teach his unique writing style. Soon, graduates of his school spread out and founded similar schools – precursors to business colleges – all over the country. The schools' students found jobs as clerks and secretaries. For the next half century, Spencerian Script was the dominant style of penmanship, and the style was often adopted as a wordmark by companies seeking to create a visual identity.
In fact, some of the oldest and most respected logotypes in America are rendered in a Spencerian Script. Coca-Cola's wordmark has remained essentially unchanged for over 100 years. The Ford Motor Company, likewise, has opted to stick with the Victorian era lettering style for over a century, even resisting the opportunity to evolve into a more modern design by Paul Rand back in 1966.
Spencer did not live to see his lettering style conquer the world. He died in 1864, before its popularity caught on. But his sons carried the torch and promoted the style through publications and teaching. Spencerian Script reigned as the pre-eminent handwriting style before giving ground to other handwriting styles, and eventually the typewriter.
Raising Cane
Since the 1980s, the Buffett's logo has included both the wordmark and the candy cane. "When talking to folks about the business, it seemed like people didn't know Buffett's Candies," says Buffett. "However, when you told them 'the place with the big candy cane,' everyone seemed to know where it was."