Albuquerque Isotopes: From Springfield, With Love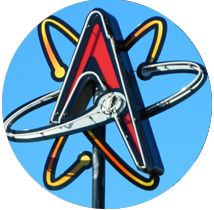 When the beloved Albuquerque Dukes pulled up stakes and moved to Oregon in 2000, a bereft baseball-loving populace had to wait until 2003 for a new team to take the (new) field. After a name-the-team contest, the new moniker of Albuquerque Isotopes was decided upon.
The name came from from an episode of The Simpsons in which Homer leads an effort to stop his beloved Springfield Isotopes from relocating to – of all places – Albuquerque. (The irony is suffocating.)
Atomic Articles
With a new name selected, the Isotopes called up Albuquerque design firm Vaughn Wedeen Creative (now RK Venture) to develop the team's logo and brand. The resulting "A" with its swirling horsehide-electrons and the lava-lamp lettering of "Isotopes" soon became not only a local favorite, but one of the top sellers of minor league merchandise in the country, no doubt owing to its loose association with America's favorite bug-eyed animated family.

But even without the Homeric history, the name Isotopes retains a certain relevance to our locale. After all, New Mexico is home to not one but two national laboratories, both of which are rumored to dabble in the occasional radioactive isotope (but you didn't hear it from me). Plus, we are the home of the atomic bomb, so we have a certain radioactive legacy to claim.
I'm Radioactive
Speaking of radioactive, how about that glowing, blobby Isotopes wordmark? You have to give the designers credit for eschewing any number of trendy off-the-shelf typefaces and opting instead for a custom drawn wordmark. Not only do the  amorphous letters seem to be undergoing a shift from matter to energy, they also look great on a t-shirt.
Even though our beloved 'Topes have changed big league affiliations through four different teams (so far), the Isotopes mark has remained constant in these heady days of sports rebranding. This is especially true at the minor league level, where a new identity seems to spring up every week or so. (New logos = new merch.) I guess as long as the gear continues to sell, the radioactive A will enjoy a nice long life. Or at least a half-life.